A tiffin container can not just hold the meal but will maintain it wholesome and clean. There was a time when the term tiffin case referred to a particular plastic accessory whose unstable seals ran out midway through the academic year, sending the food fluttering.
These days, the phrase encloses many vessels, varying from sensibly prepared lunch container products to super-cloistered, squishy tiffin boxes. The new category of best stainless steel lunch boxes is not only for children but even for adults that go to the workplace or are just intending a picnic meal for fun.
Get in touch with the providers of the best tiffin box for office that can be accessible in diverse variations. Choose the correct product by assessing the vital aspects discussed below.
10 Best Steel Lunch Box For Office
Who does not admire the style of a fascinating stainless bento container filled with delicacies? The market is overwhelmed with too many pattern and resource options nowadays in connection with the best office tiffin box, wherefore which one must get picked? Check out the finest wholesale stainless steel container for office one should appraise.
Nicety Flat Lid Stainless Metal Tiffin Crate With And Without Hook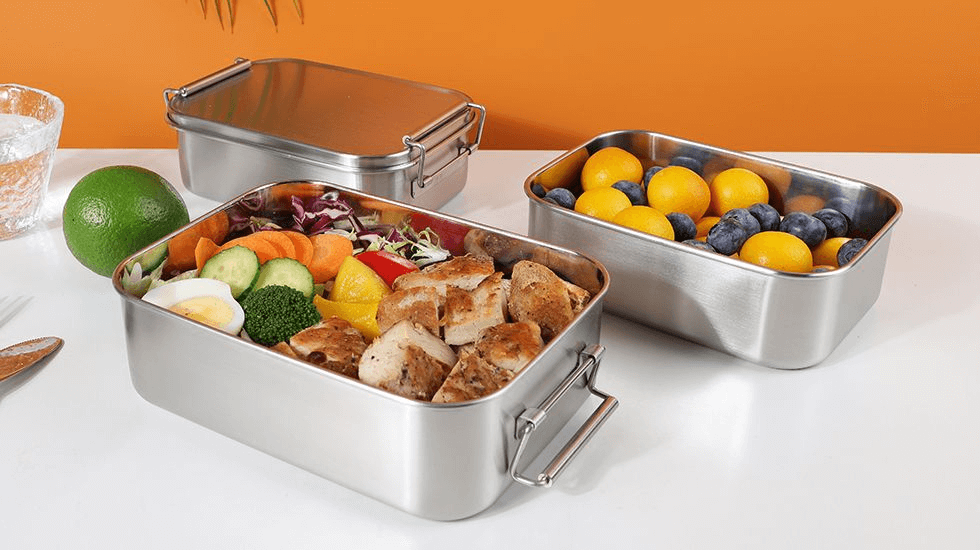 This perfect stainless steel tiffin box for office gets constructed with food-quality 304 stainless metal. It is environmentally safe and nutritious, arduous, and hard to impair. The balanced structure lid causes this best office tiffin box more extravagant, with two types without hooks and with hooks. Go for the needful according to your convenience.
It comes with two designs, 800ml and 1200ml, which satisfy everyday usage, supporting the personalization of the chamber structure simultaneously, and divides the area of the meal compartment, which is suitable for packing a variety of edibles. It encourages soft personalization and open pattern personalization. All Nicety staineless lunch boxes have gained LFGB,EU, REACH, FDA,CE,BSCI certificates, We compromise all lunch boxes are made by 304 stainless material. We also provide 24 MOQ to meet your business need.
Nicety Square Sealed Tiffin Box With Solo And Dual Layer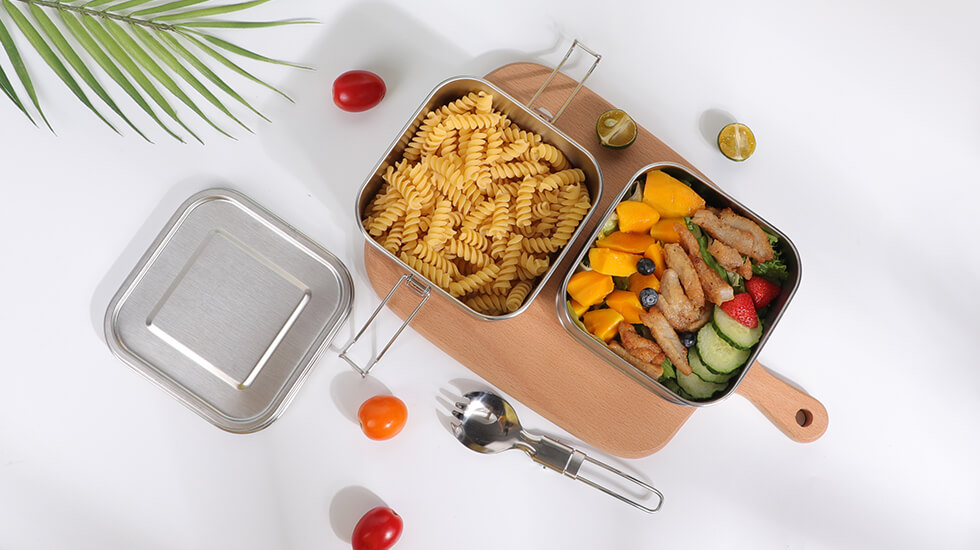 The Nicety Square Sealed tiffin box for office gets constructed with excellent grade 304 (18 percent Chrome and 8 percent Nickel). It is LFGB approved and in compliance with modern-day eco-friendly and nutritional producing of the best resource for feasible reprocessing stainless steel tiffin box for office, for nutritious and wholesome consumption. 
The silicone is even meal reliable. There is a dual leakproof structure with a silicone sealant and protection lid format to control unexpected overflowing of meals, stopping exterior impurity and water encroachment intercepted.
The water and air-resistant attribute confirm that there is no overflow or outpouring of the edible thing or any fluid out of the crate, even if the container gets moved in either direction. The silicone we use has LFGB and FDA certificates because poor-quality silicone will lead to poor sealing and high-temperature resistance. We guarantee the quality of steel lunch boxes from all aspects.
Milton Flexi Insulated Internal Stainless Metal Tiffin Container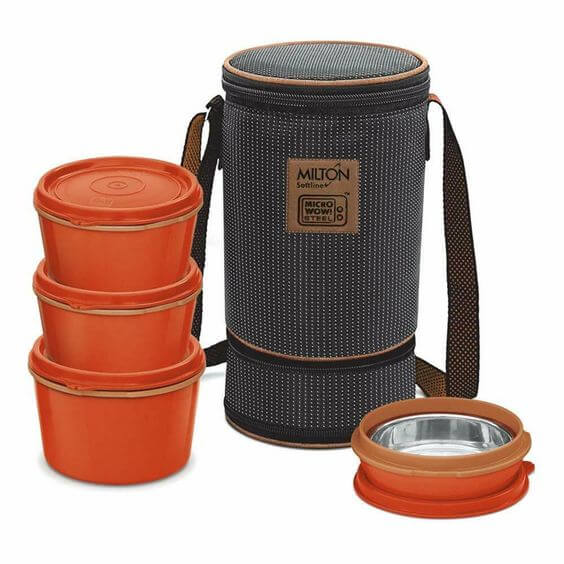 The Milton flexi insulated tiffin box for office use comes with a pack of four boxes which appears in a brown shade. The internal resource of the insulated lunch box gets fabricated with stainless metal. It is perfect to utilize in a workplace, academy, or university. 
It appears with an elasticized smooth heatproof jacket for suitable utilization. Receptacles are entirely leak-resistant and oven protected with no cover. Its boxes are tight-sealed, non-porous, and moisture-less. The stainless steel lunch box for office keeps the meal crispy and delicious for a prolonged.
Home Puff Insulated Stainless Metal Workplace Tiffin Case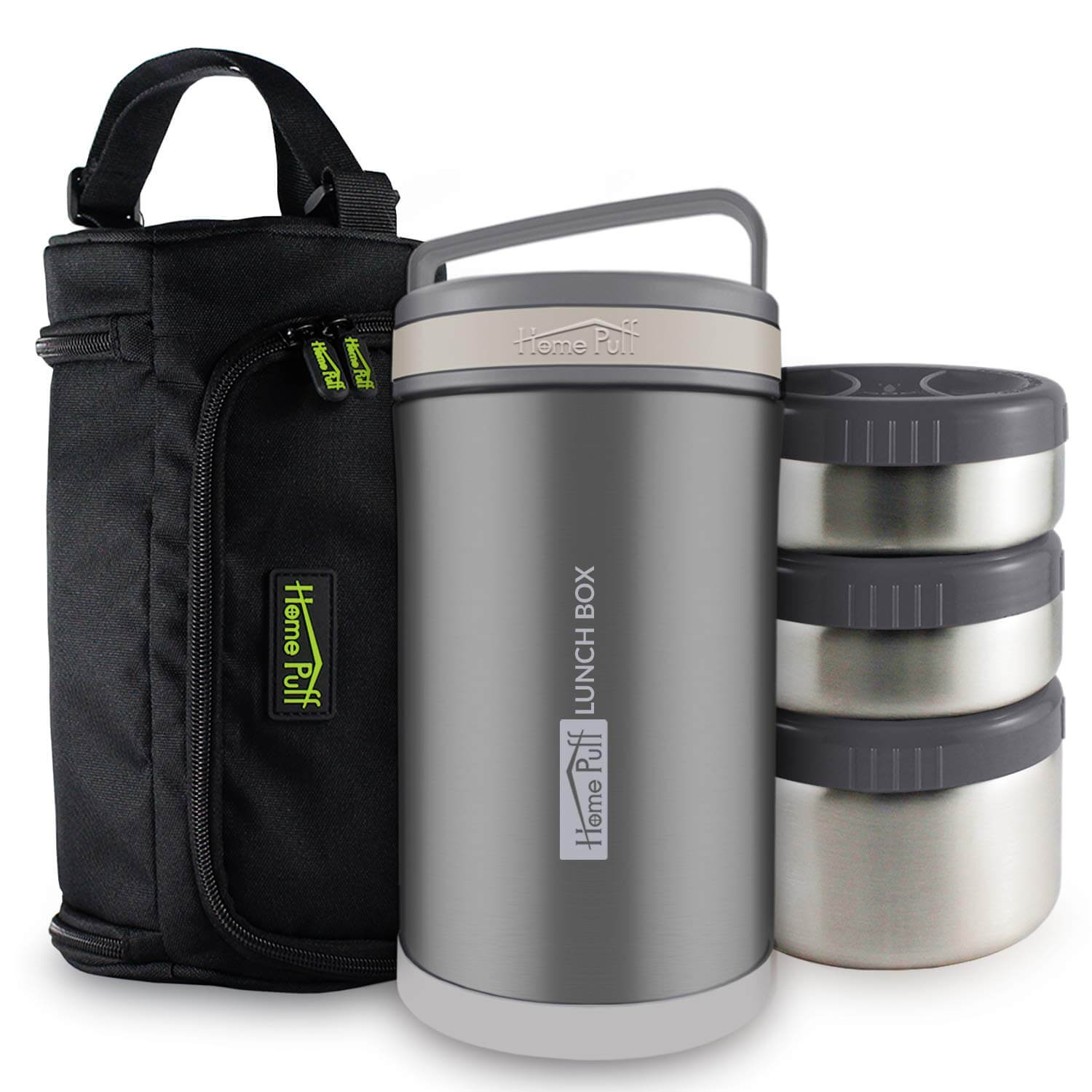 The Home Puff dual wall void insulated stainless steel tiffin box for office is for both gentlemen and women. It is a convenient non-porous lunch crate with 3 receptacles and a tiffin bag. This rose gold product has a volume of 1.7L and appears with a one-year assurance. Boxes get created with good-quality stainless metal. It has a firm design.
Cello Seal O Borosilicate Oven-Friendly Tiffin Case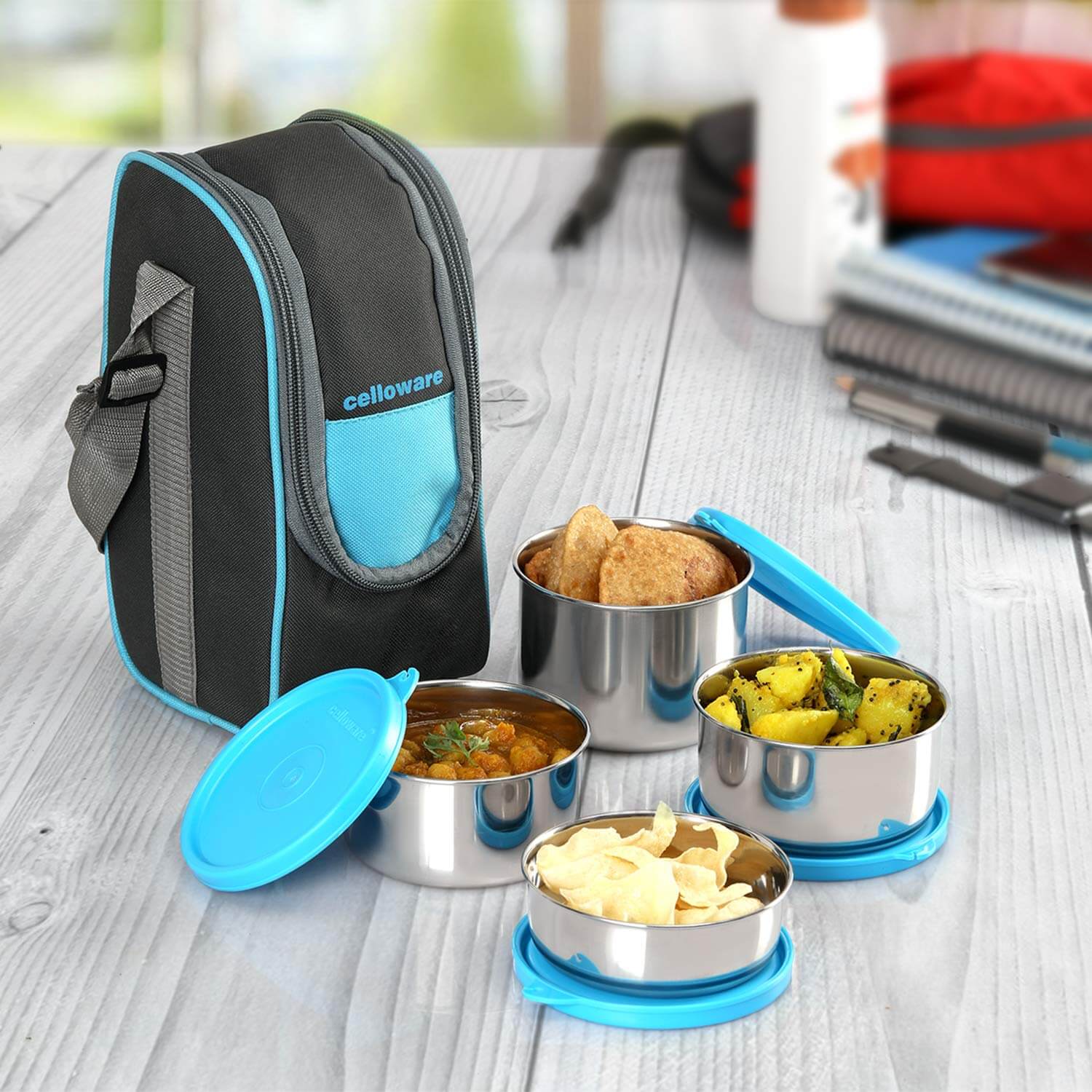 The Cello Seal O Firm rounded borosilicate oven-friendly tiffin box for office appears in the brown shade with a pair of three receptacles 350ml individually. Its boxes are air and fluid sealed. It appears in a reliable design. All boxes are 100 percent leakproof and airtight.
It maintains meals natural & crunchy for an extended duration. Its boxes are incombustible up to 320 degrees centigrade. They get built with resistant material. It will not damage smoothly. The boxes are oven protected with no cap.
Borosil Feast Stainless Metal Tiffin Cases With Lunch Bag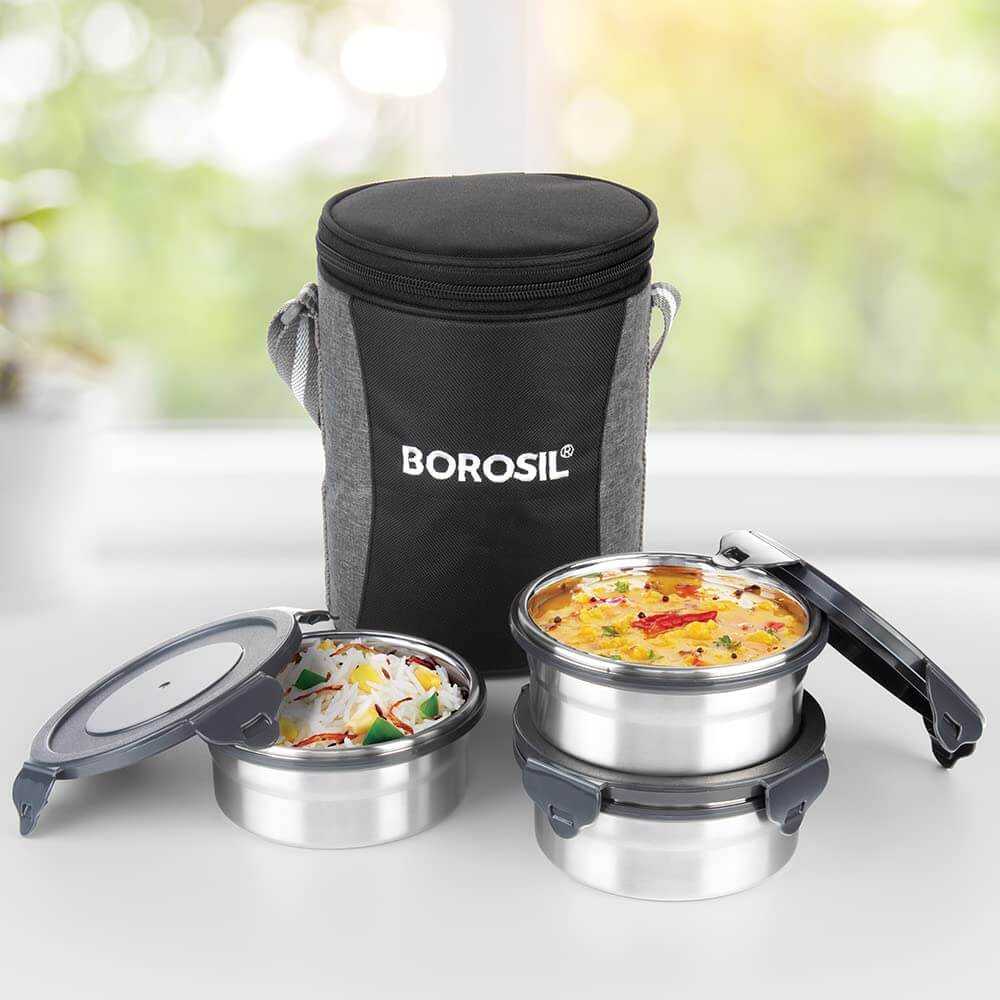 The Borosil feast steel lunch box for office has a pair of three cases with a volume of 400 milliliters X 1 & 250 milliliters X 2 boxes which is ideal for workplaces, universities, and academies. Its lunch bag appears in a grey shade, and the boxes get built with food-processing excellent-caliber stainless metal. It gets suggested for hand cleaning. It can maintain the edibles crispy for a long time. The untainted metal of the product does not drain any synthetics or retaliate to meal types.
Beclina Environment-Friendly Tiffin Container For Adults And Children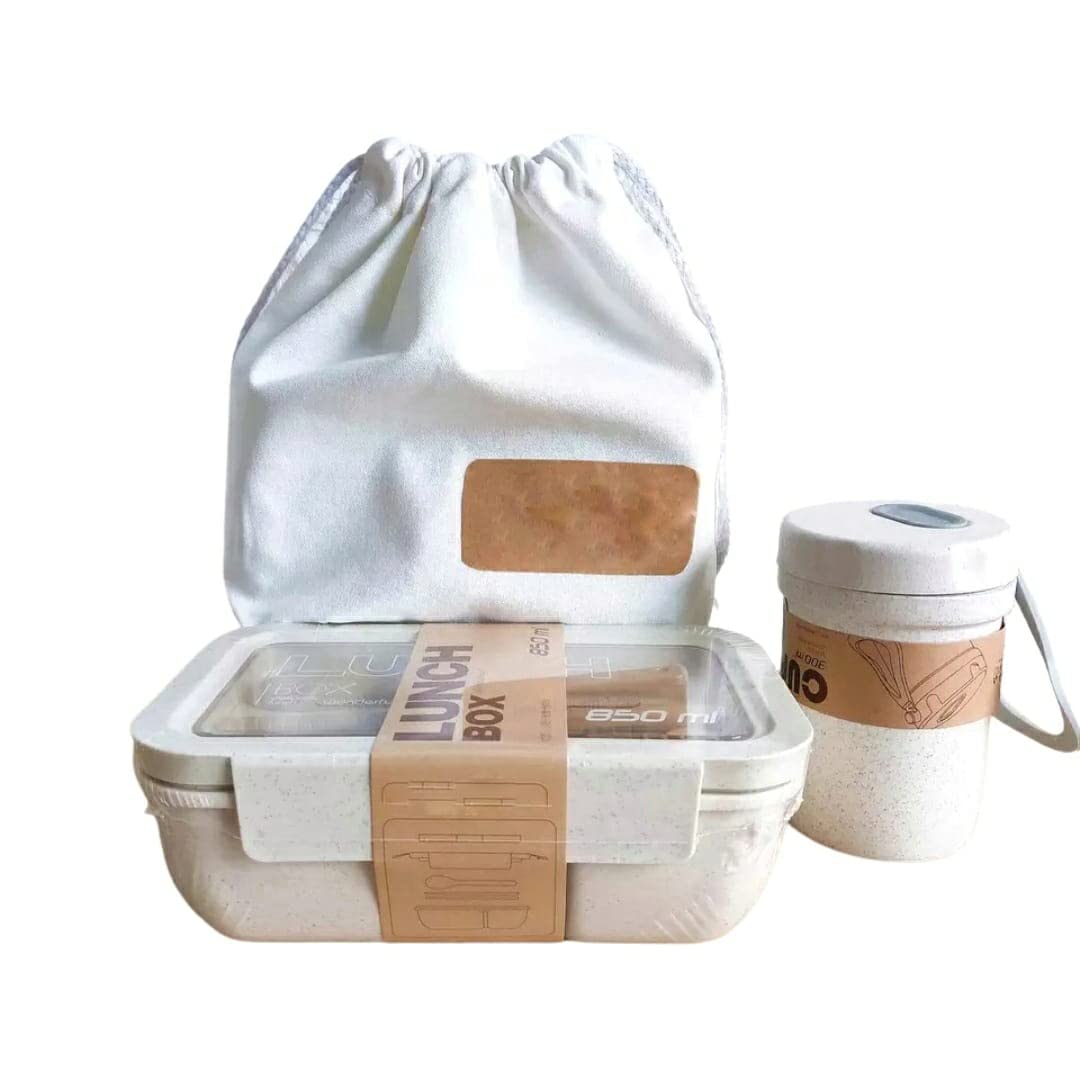 The Bexlina biodegradable food tiffin box for office use with a mug, a set of cutlery & linen lunch bag appears in a beige shade. It is appropriate for both grown-ups & youngsters. The capability of the product is 1100 milliliters. It gets recommended to only hand wash it. The main parcel appears with an eco-friendly equilateral wheat straw tiffin case, a cutlery set, a mug, and a carry bag.
Kuber Industries Tiffin Container For Workplace And School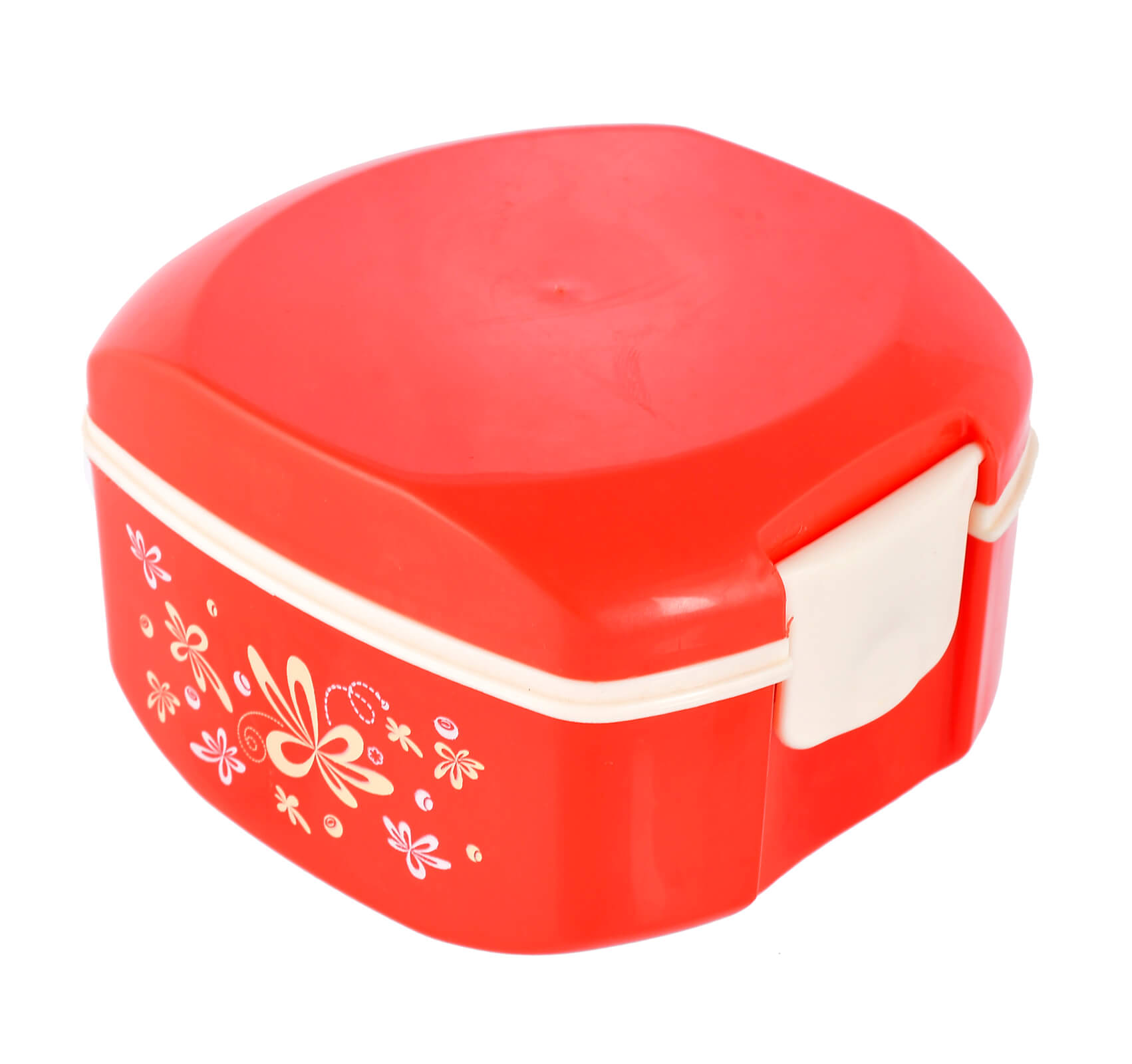 Alt text: Kuber floral printed inner steel lunch box
The Kuber Industries floral printed steel lunch box for office, academies, and the university gets made of internal stainless steel. The dual chamber meals receptacle arrives in a red shade. Its exterior portion gets assembled with plastic. It appears with an incontestable attribute and also a flower design pattern. The product weighs about 200 gm. And it is dishwashing machine protected. 
Oliveware Teso Pro Tiffin Case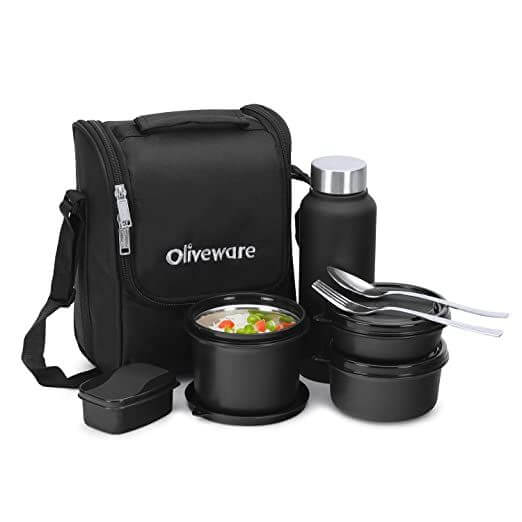 The Oliveware pro steel lunch box for office is compact and comprised of smoothly cleanable resources. The kit consists of a large stainless metal receptacle, dual average-sized stainless metal crates, one compact-sized plastic box, and a stainless metal bottle. Its material is oven and fridge protected and incombustible. Receptacles appear with air, leak, and watertight caps with a spoon and fork.
FunBlast Stainless Steel Tiffin Case For Workplace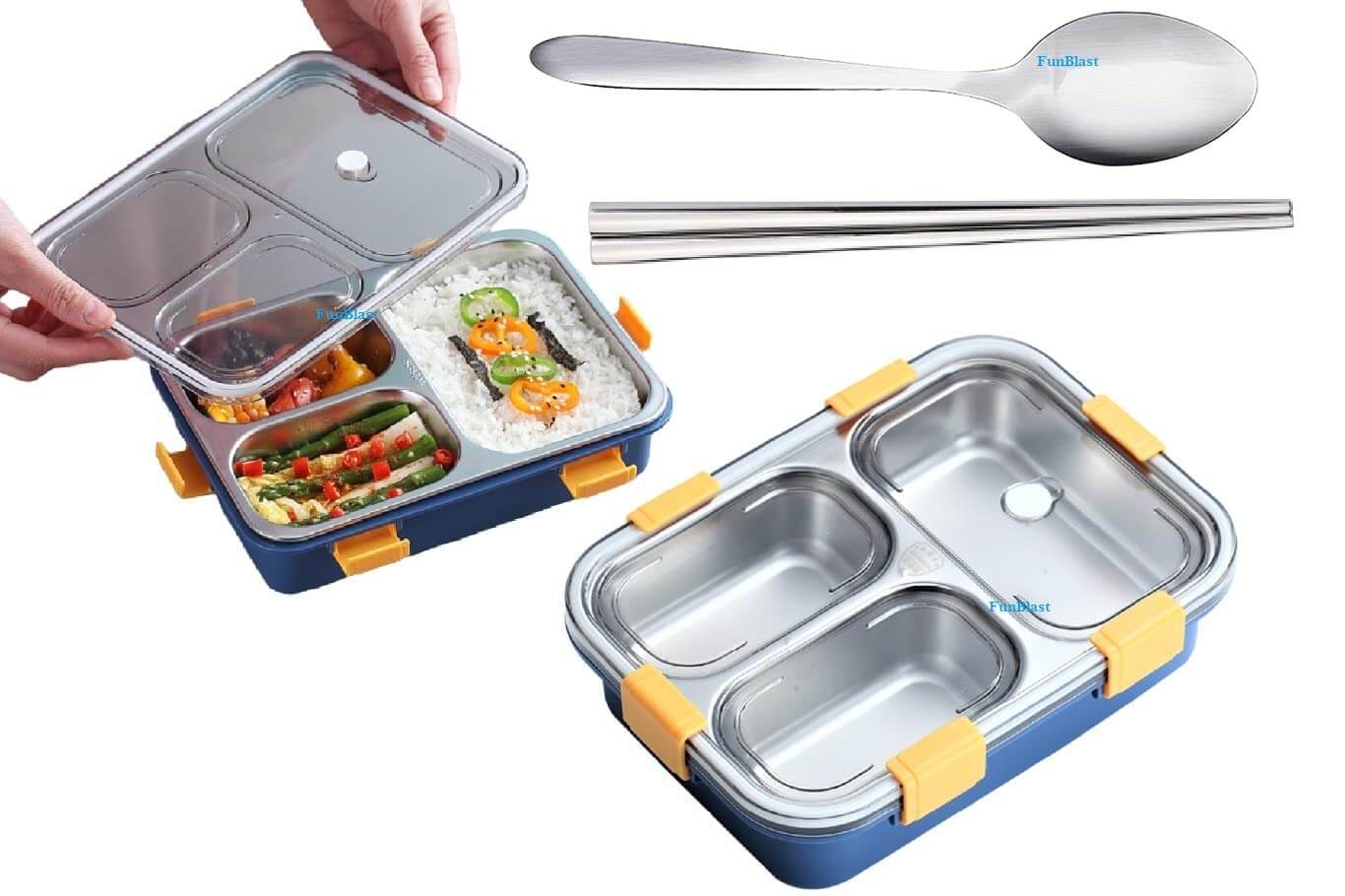 The FunBlast bento box is a stainless steel container for adults and children with a fork and spoon. It is appropriate for men, women, kids, and everyone. It has a blue shade. It can maintain the meals untouched for much time. Fill the edibles in sunrise, and it might remain hot until midday.
It holds an airproof cap. The best steel lunch box for office is comfortable to keep in lunch packs, rucksacks, or suitcases. It has an attractive penetrable button setup and signet ring style that controls trendiness and surge or outpouring. It has a very soft internal base. The food preparation receptacle is even comfortable to wash. The main parcel contains a tiffin case with a scoop.
How To Choose The Best Tiffin Box For Office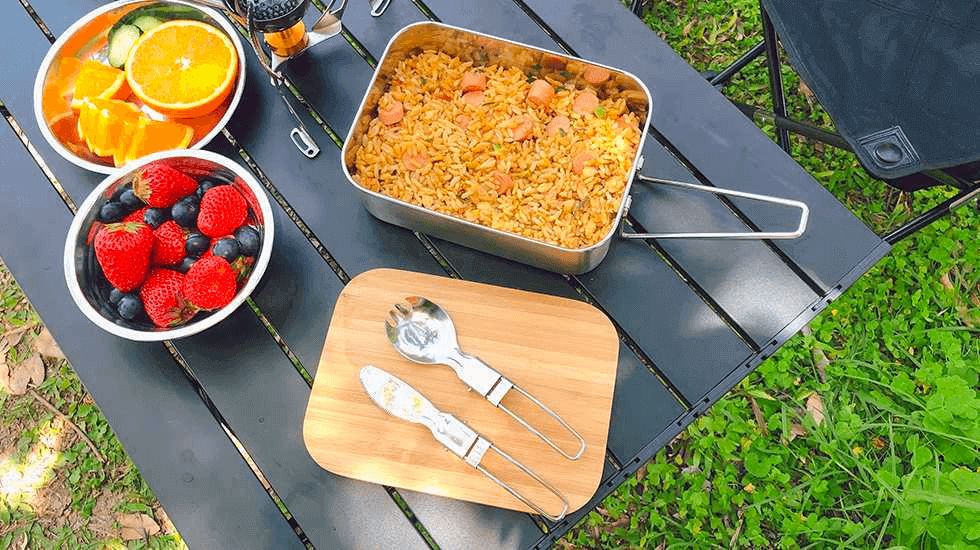 The comforting prospect of picking the best steel lunch box for office befalls smoothly. Despite being simple, it must get selected with consideration. It would likely be best to view all the subsequent factors prior to concluding the best tiffin box for office.
Go For A Resistant Material Meal Box
An insulated best office tiffin box can make that lunch recess better compelling. The hot homemade food in an insulated tiffin case is something anyone will surely enjoy eating. A fine meal pack must have adequate insulation. The responsibly made stainless steel lunch box for office must hold the hotness of the meal as it might not flavor the exact if it chills out. Moreover, insulation even reduces the potential of microorganisms developing inside the containers.
Consider The Size
While going for a lunch box, particularly for the workplace, ensure the tiffin case's size is not weirdly large. The best steel lunch box for office must be fun-size and appropriate for the meal essentials. It must be prepared correctly with several essential sections to maintain every portion of the meal untouched. Determinate that the container's size must suit the work table if the cafeteria is never the priority.
The volume and size of the best stainless steel lunch box for office must be just like that it is adequate to carry a complete course lunch. Accordingly, it is better justifiable to choose a series of boxes rather than a single-column tiffin.
The Lunch Box Must Have Liberty From Lethal Materials
Usually, a community of people gets stuck by the idea of operating plastic tiffin containers because they remain inexpensive, weightless, and have various forms and sizes. But on the way, they ignore checking why the best tiffin box for office is better than plastic. One good reason is for holding the foodstuffs, which is a safeguard measure in accordance with the grade of a product. So, ensure to pay a bit extra and get a better choice.
It Should Be Leak Resistant
Some things are more horrible than going crazy in between a chaotic day. Think about taking out the tiffin just prior to having lunch and checking the bag, which is a pond of soup. A straightforward cause fits behind it, fragile intermeshing and horrible fabrication.
Do not forget to determine the tiffin case for spill-proof and fluid-resistant quality while going for a product. Food leakage might not only be considered a waste of food but even will spoil the surface. The stainless steel lunch box for office should be airtight to steer clear of any leaking.
It Should Be Bisphenol-A Free
BPA is a synthetic utilized to preserve the condition of plastic receptacles. Microwave-friendly tiffin boxes are generally created with plastic where these synthetics get applied. When combined with edibles, these synthetics may damage the body and have various complications. Consequently, prior to choosing a tiffin case built with plastic, ensure the receptacles are Bisphenol-A less. Choosing climate neutral metal tiffin box for office is the ideal option.
Check Out Its Durability
The best stainless steel lunch box for office appears for a fair victory when the query is regarding their durability. While using a plastic tiffin case, there is always a chance to compromise on a sizzling hot meal, the plastic receptacles seem appealing while buying them, but the texture and the shade gradually vanish as time goes by. Alternatively, the best stainless steel lunch box for office will never taper off and have a life span of a decade.
Why You Should Trust Us For Your Stainless Lunch Box Business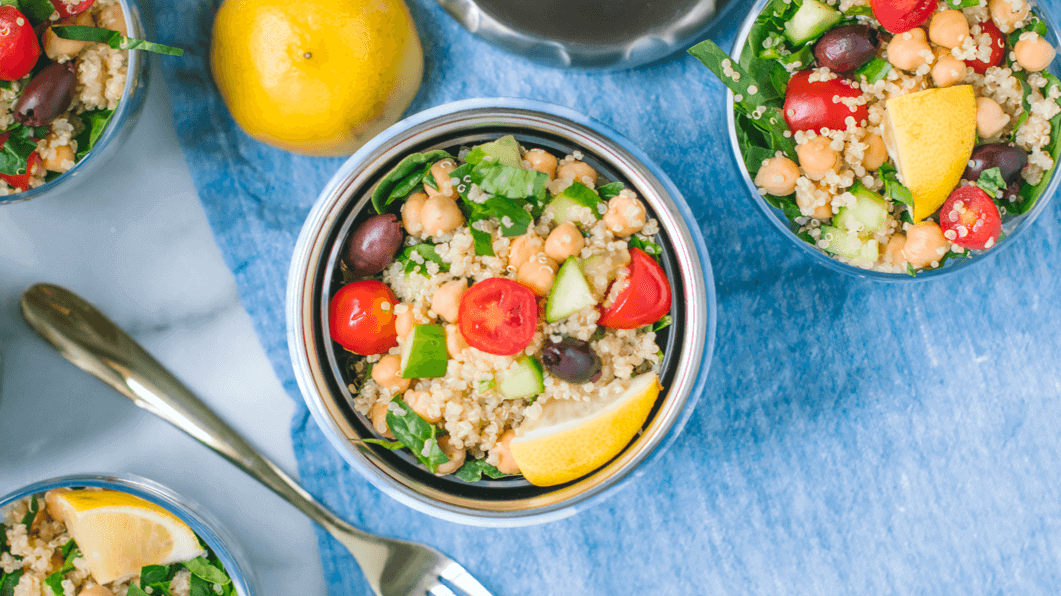 Nicety is a much-esteemed tiffin box manufacturer that attracts customer attention, leaving others behind in mass-producing superior-caliber meal containers and presenting bonus features. Look at the reasons you must choose Nicety as your favorite stainless steel tiffin box for office providers.
High Quality
All stainless steel tiffin cases are LFGB,EU, REACH, FDA,CE,BSCI certificated. Apart from using 304 stainless material, titanium will also be used as the raw material of the product, which is an aviation material. The bamboo lids for lunch boxes have FSC certification, it means bamboo lids have no formaldehyde-exceeding certification. 90% of the peers do not have this certification because the cost of certification is high, and the factory needs BSCI and ISO certificates to apply.
Low MOQ
Nicety provides low MOQ for office lunch boxes. If you only need a small amount of stainless lunch boxes, you can contact us, no matter the size of the order, we will give customers the best service and help. The MOQ is 24.
Environment Friendly
Dissimilar to plastic boxes that are ruining the universe in the most psychotic ways imaginable, Nicety wholesale tiffin box are environment-friendly. The stainless steel lunch boxes can be recycled for more than ten years without causing harm to the environment.
Maintains Meal Fresh
Not only will the heat absorb in a stainless steel tiffin box for office, but it will even maintain the meals fresh for a prolonged time. So the fact that everyone enjoys eating meals sizzling and untouched even after much time, a tiffin box for office use is the most suitable option. Get going and start consuming fresh meals every workday. It is considerably finer for wellness than the synthetically strained one being taken to the office daily.