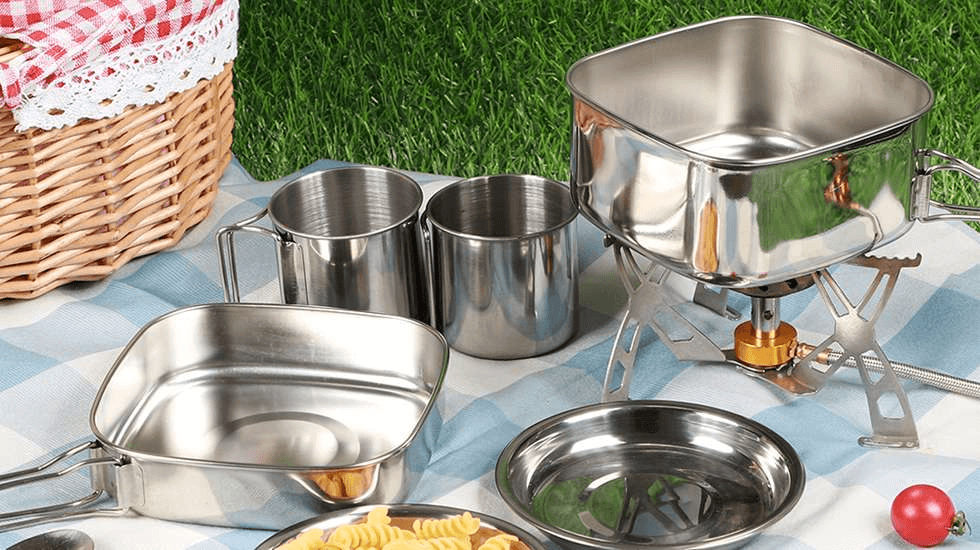 Building a business is similar to the hard work of building a house; you must make decisions brick by brick until the final touch-up is completed. A business does not succeed in a day or months; for good quality stainless steel cookwares, a business needs a trusted manufacturer that takes special care in customizations, packaging, raw material quality, and delivery. Especially if the focus is on stainless steel cookware, the competition is already very high; hence, choosing a trustworthy stainless steel cookware manufacturer will help your business succeed. People only pay importance to brands, and partnering with famous brands can benefit your business positively.
10 Best Stainless Steel Cookware Brands In The World
If your business ideas are brainstorming, unique, and valuable, and you are wise to partner with a renowned manufacturer, your path to success is already clear. Before starting a stainless steel cookware business, it is essential to recognize who you would be partnering with. Here are the ten best stainless steel cookware brands from around the world, ruling for their superior quality products.
Nicety
When it comes to the leading steel lunch box manufacturerthat is shaping the steel lunch box markets, Nicety is a leader. Entering the global market for the last 18 years, Nicety believes in maintaining superior quality in its manufacturing cookware kit process, followed by a strong production chain.
Nicety focuses on making lightweight and durable cookware that is stainless and can resist heat. They also include special features like super-quick heating and heat distribution at the bottom of saucepans, pans, and pots. Nicety also offers customization in packaging and techniques, such as laser engraving, stamping, silk printing, and decal paper for stainless steel cookware.
Based in the People's Republic of China, Nicety is an internationally-recognized trustworthy stainless steel lunch box and outdoor camping products manufacturer and supplier. The company also makes top-quality pet food utensils. Stiainless steel cookware from Nicety have gained LFGB, EU, REACH, FDA, CE, and BSCI certification. The quality is recognized internationally.
For businesses seeking a trustworthy stainless steel cookware and lunch box manufacturer, Nicety provides wholesale products and specializes in client customizations. It is also one of those leading manufacturing companies actively involved in reducing manufacturing waste and choosing sustainable recycling methods. You don't need to worry that you couldn't afford Nicety stainless camping cookware because the MOQ is 24. No matter what your business is, you can afford it.
All-Clad
A globally-recognized top-rated cookware brand that is praised for its wide range of stainless steel utensils and modern blends such as copper, aluminum, and graphite. All-Clad is based in Canonsburg, Pennsylvania, and was established in 1971 by a renowned metallurgist named John Ulam. Special importance is also given to the balanced handling, the quality of stainless steel used, and the quality of lids and handles. In other words, All-Clad is one of the best brands for stainless steel utensils and alloy cookware such as cast iron sets.
Prestige
One of India's most prestigious stainless cookware brands, Prestige, has been ruling Indian kitchens for decades. Prestige is one of India's top stainless steel cookware brands that produce world-class pressure cookers and a wide variety of cookware sets. It is also the first company in the country to have ever introduced a microwave-safe pressure cooker.
Prestige manufactures stainless steel and cast iron cookware sets intending to make every culinary experience hassle-free. Strong, lightweight, and durable, Prestige also pays a lot of importance to sustainability. This leading stainless steel cookware manufacturer and supplier produces a blend of the traditional and modern range of oven-safe utensils, ideal for grills, saute, pressure, and non-stick cooking.
Cuisinart
A renowned American brand hailing from Chicago, Cuisinart is recognized worldwide for its comprehensive range of cookware sets and kitchen products made of superior quality stainless steel and alloys. This manufacturing company takes pride in its attention to budget and cost-effective cookware set while at the same time maintaining high standards. The most famous and bestselling utensil ever made by Cuisinart is its stainless steel saucepan with a high-quality glass lid.
Calphalon
Hailing from Ohio's Perrysburg, Calphalon gets its fame from the premium quality cookware sets specially crafted for home chefs. The uncompromising quality of stainless steel cookware, bakeware, and cutlery make Calphalon one of America's best stainless steel cookware suppliers and a master of non-stick cookware.
Calphalon concentrates on elegant designs, flexible handles, lids, and durable materials and adopts advanced cookware technology. Even if Calphalon has gained most of its popularity from non-stick cookware sets, the stainless steel sets are equally praiseworthy and affordable. The Calphalon classic stainless steel multi pot is considered the best among the sets.
Tramontina
One of the few Brazilian companies that have gained fame worldwide for their stainless steel cookware sets, Tramontina has been ruling global stainless steel utensils markets for 100 years. Tramontina is one of the very well-recognized stainless steel cookware manufacturers that combine innovation with superior quality materials to deliver premium products to markets worldwide.
Today, Tramontina delivers its top-notch cookware sets to more than 120 countries, and the reason behind this massive success is only hard work and uncompromising quality maintenance. Businesses can buy stainless steel cookware wholesale from Tramontina and please their clients with high-end kitchenware products.
Hestan Culinary
A revolutionary modern cookware company hailing from California, Hestan Culinary needs no introduction. Hestan is one of America's most-recognized cookware brands that has 14 global patents. From their innovative designs to top-notch quality, Hestan is a remarkable manufacturer of cookware sets mostly made of metals and alloys, including stainless steel and copper.
Very interestingly, Hestan Culinary has earned its fame as one of the best stainless cookware brands because of the innovative minds behind it. A group of talented vintners, engineers, and chefs have come together to reimagine cooking in metal utensils, mainly stainless steel. Hestan produces its modern cookware sets in huge volumes and is also involved in wholesale dealings. Businesses seeking steel food container wholesale can consider Hestan Culinary their ideal business brand.
Anolon
Mostly recognized for its lightweight stainless steel frying and non-stick pans, Anolon is yet another world-famous cookware brand. Beginning its journey in the year 1984, Anolon has maintained its goodwill for nearly four decades and has been successfully leading global cookware markets.
Anolon's cookware sets are admired by both professional and home chefs because they are made with a lot of care, catering to the demands of culinary experts. Lightweight, ultra-durable, and easy to clean, the varied range of Anolon cookware sets is worth every penny. This California-based cookware company is dominant in global markets and is considered one of the largest cookware companies in America.
Le Creuset
As the name suggests, Le Creuset is a leading cookware company from France that focuses on making its collections luxurious and vibrant. Le Creuset has a wide variety of cookware sets, and the common materials used are cast iron, stainless steel, and stoneware. Although not the most lightweight collection, Le Creuset is praised by people worldwide for its premium quality and unique designs.
What is believed to be one of France's leading cookware brands today was once a private company with no plans to get public. The difference between Le Creuset and other modern cookware companies lies in their rich look; the rich designs and vibrant colors are very easy to comprehend. Le Creuset is also famous for manufacturing multi-ply stainless steel utensils, which is rare.
Made In
The last on the list is another famous American cookware brand known for its affordable range. Made In sells its premium cookware sets directly to customers online and has the most amazing reviews. Made In produces a variety of cookware sets that include 5-ply stainless steel utensils, carbon steel and non-stick utensils, a variety of steel plates and knives, and so on. Made In is genuinely one of few American cookware companies that take pride in direct-to-customer sales.
How To Choose The Right Stainless Steel Cookware Manufacturer For Your Brand?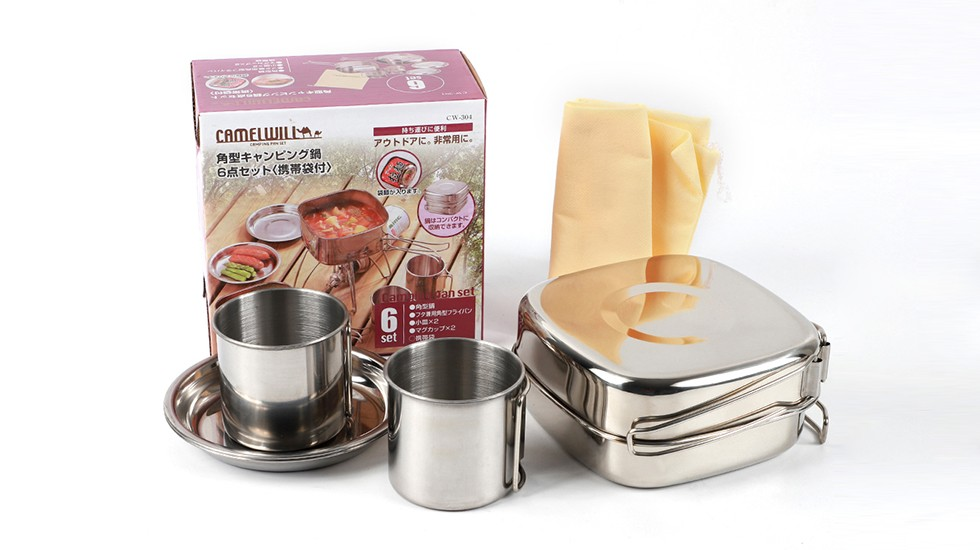 The budget plays a significant role when establishing your brand and designing your products. You cannot risk spending on unreliable manufacturer products during this initial stage. To succeed, you need a trusted stainless steel cookware manufacturer who takes all the responsibility starting from design and customization to packaging and delivery.
But, there still remains a big confusion, how is it possible to find that one reliable manufacturer from the crowds of millions? Here are some significant factors that every business must consider while choosing a stainless steel cookware manufacturer for their brand.
Thorough Research
The most vital step before picking a trusted stainless steel cookware manufacturer is conducting thorough research into whether or not a company can be trusted for customizations and timely deliveries. Research can help gather a lot of helpful information about a manufacturing company. Such as the type of raw materials used, type of customizations offered, wholesale facilities, manufacturing technique, partners and overseas relations, clients are primarily from which part of the world, and much more. Taking a step without conducting thorough research can result in major mistakes.
Time Taken To Respond And Deliver
Some companies are only words; their websites have paragraphs about how efficient and popular they are, but they take a lot of time to respond to clients' queries or deliver their orders. A trusted stainless steel cookware brand always pays attention to its client's needs and ensures timely deliveries; that is where it gets all the goodwill.
A successful stainless steel cookware manufacturing company produces tons of products in a single day; therefore, delivering bulk orders in less span must not be a big deal for them.
Price Negotiations
When purchasing products in bulk, many companies offer wholesale stainless steel cookware, but the price is the only thing to pay attention to. You need to negotiate a competitive price for your bulk order, because price is important for your business success.

Freedom To Customization
When looking for trusted steel cookware kit manufacturers, a vital factor is the freedom of customization. A business willing to establish a brand of stainless steel cookware sets must have new ideas regarding designs, shapes, and patterns. If this freedom of customization is not allowed, the brand will fail to stand out in the competitive market.
Location Of The Manufacturer
Some businesses prefer to partner with manufacturers within the borders of the country to avoid various hassles relating to safety and time taken.
But with the development of international logistics, the advantages of foreign stainless steel cookware manufacturers have become more and more obvious. Many businesses like to rely on overseas manufacturers because they offer HIGH products at unbelievable rates, and the techniques used in manufacturing also vary. In addition, high-quality foreign stainless steel cookware sets have gained international certificates if you source from a reliable manufacturer like Nicety.

Quality Management
One primary reason why small businesses turn into the biggest stainless steel cookware brands is because they succeed in providing products of superior quality. Therefore, the primary focus of a business willing to establish a new brand must be on the quality of the product. A reliable stainless cookware manufacturer will ensure every requirement of quality management has been met and the products delivered are of premium quality.
Bottom Line
Therefore if you want your business to succeed, you must rely on top brands and their trustworthy manufacturers. Choosing stainless steel cookware as the primary focus of your business is a brilliant idea because it is readily available and affordable, sustainable, and can be 100% recycled.
When it comes to the quality of stainless steel, the varieties are wide, and only a trusted manufacturer and stainless steel cookware supplier can guarantee the superior quality of the material used. Most world-recognized stainless steel cookware brands do not manufacture on their own; they depend on reliable manufacturers to supply their customized products. Similarly, if your business requires a reliable manufacturing partner and you wish to buy stainless steel cookware sets in bulk at wholesale, you can contact us here. Nicety provides the 24 lowest order quantities so that you could give your business a first try.