While thinking of starting a brand new cookware business, the biggest confusion one has to come across is choosing between stainless steel or aluminum. Which one is better? This is the most common confusion because these materials are frequently used to manufacture modern cookware sets. This battle between stainless steel cookware vs aluminum must go on, but, to begin a business, you must make a decision.
Comparing their affordability and availability, both aluminum and stainless steel cookware are affordable and highly available across global markets. But in terms of popularity, stainless steel cookware is undoubtedly more popular and preferred than aluminum ones. However, before taking that final decision, it is essential to conduct thorough research on which one is better, should you be partnering with a custom stainless steel cookware manufacturer or the one who manufactures aluminum sets?
What Is Stainless Steel Cookware?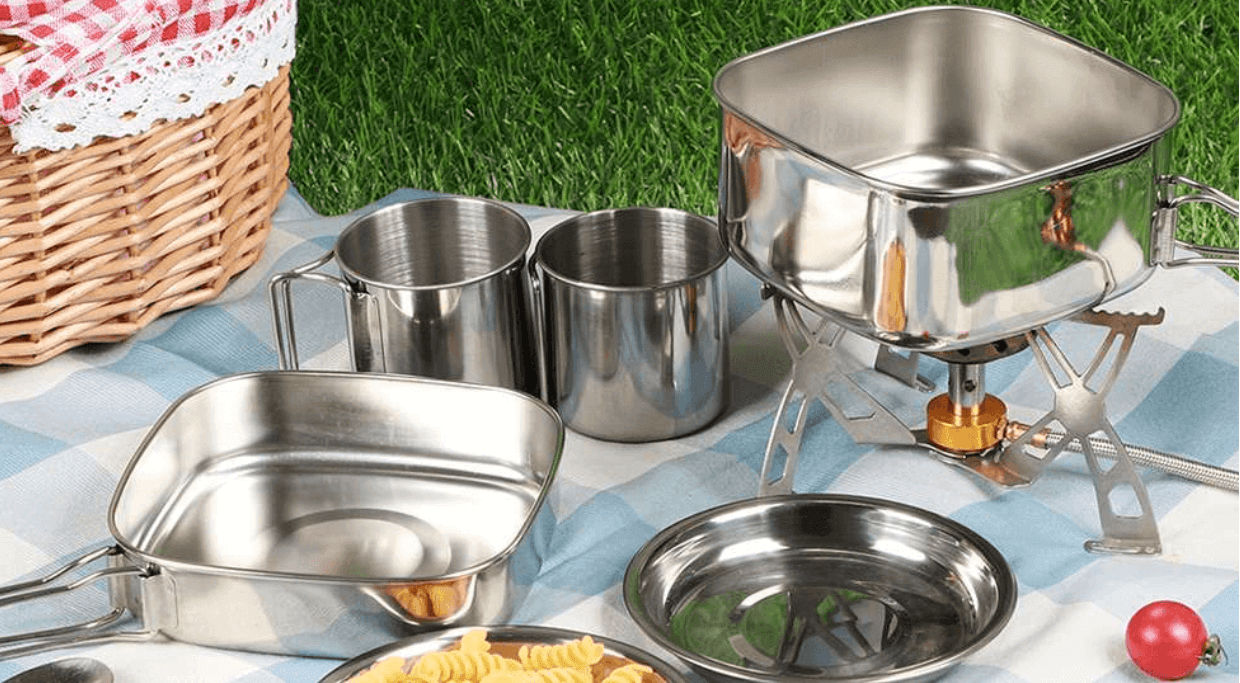 A blend of iron and carbon, stainless steel is the most common material used in manufacturing cookware sets. Stainless steel cookware is corrosion and rust-free, free from stains, non-toxic, and ideal for daily use. This cookware are lightweight, heat resistant, and can be used for all types of cooking, such as baking, frying, or sauteing. 
Stainless steel cookware is more versatile; it can be molded into different designs and patterns and used for multiple purposes. The best part about these cookware ranges is that they are hygienic, easy to clean, and can evenly distribute the heat. For all these features, stainless steel cookware is most common in camping and kitchen around the world. 
What Is Aluminum Cookware?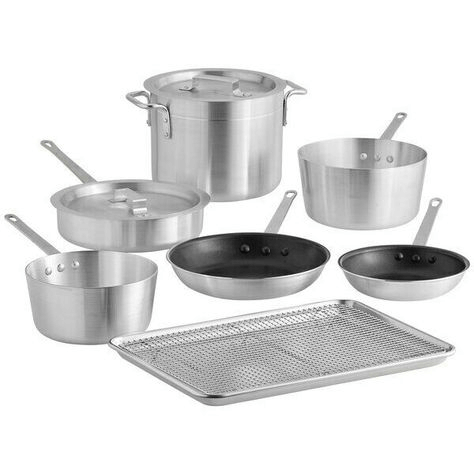 Made by blending aluminum with oxygen to produce strong and durable cookware, aluminum cookware is most suitable for cooking on gas stoves, electric or gas-powered ovens, and gas tops. Aluminum is mainly used to manufacture pots and pans that withstand high cooking temperatures. They are also very lightweight compared to stainless steel, which is why they have been regarded as one good choice for cooking in outdoor locations.
Aluminum cookware has variations; some are anodized, some are clad in stainless steel, while others are smooth, scratch-resistant, and have a non-stick surface. Precisely, when compared to other metal cookware sets, such as, when the comparison is aluminum vs stainless steel cookware, aluminum is cheaper and lightweight.
Many people are concerned if aluminum pans are safe. But in reality, no studies have proven that they are unsafe for cooking. However, science says aluminum can react with certain acids, so you must be cautious about using acidic food while cooking or eating.
Pros And Cons – Stainless Steel Cookware Vs. Aluminum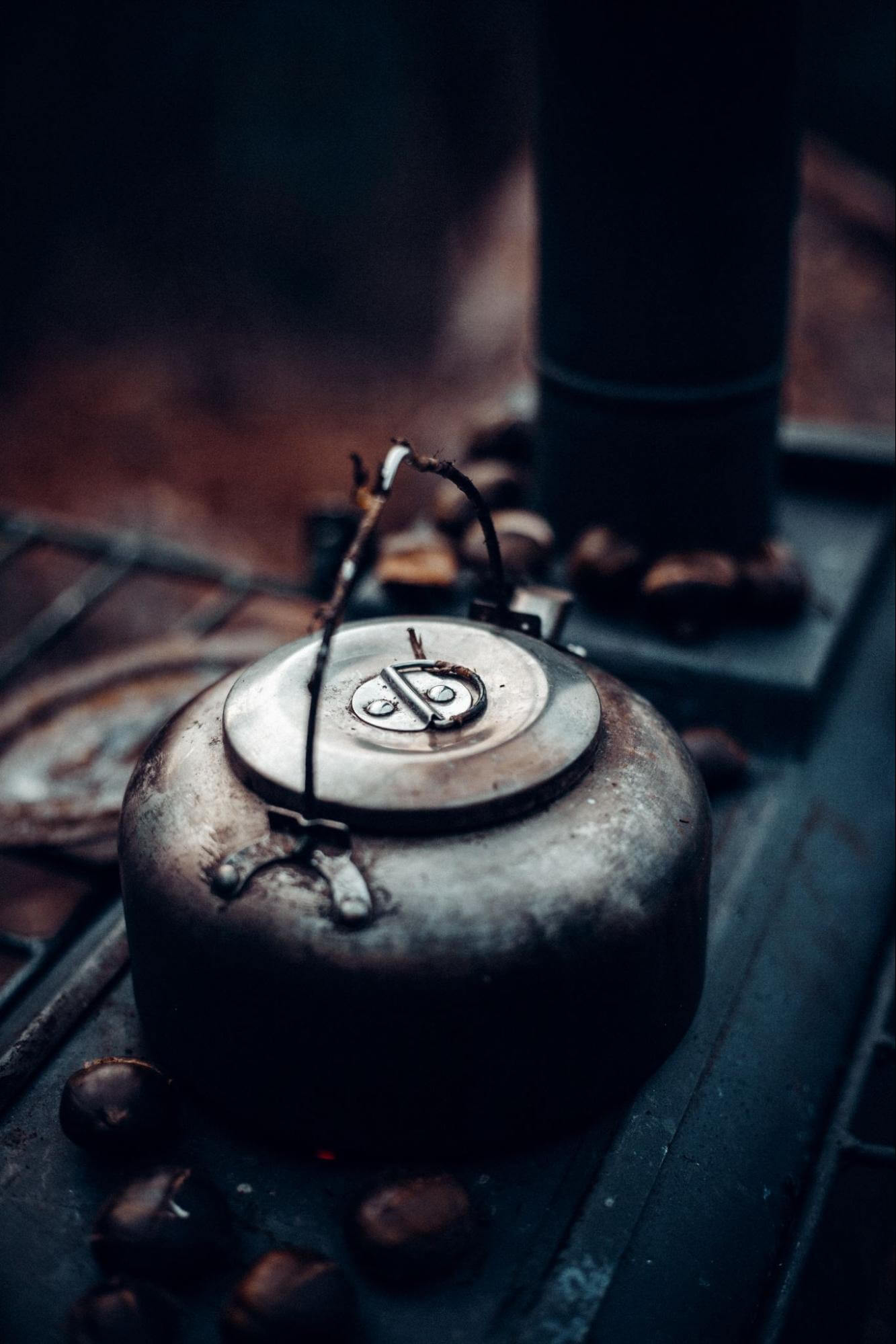 Both aluminum and stainless steel pans are ideal for cooking, but they have pros and cons that users must be aware of. For a cookware business, deciding which material will be the best can be overwhelming, especially when most people are worried about whether aluminum is bad for health. Or is stainless steel costlier than aluminum? Whatever the concerns are, these pros and cons can help businesses decide better.
Pros Of Stainless Steel Cookware
There are numerous pros to choosing stainless steel cookware for your business, but the major ones are as follows:
They are corrosion and rust-resistant.
They are long-lasting and much more durable than any other materials used in cookware sets.
Also known for its non-reactive nature, stainless steel does not blend in or react with acidic foods. And that is why they have no health hazards involved; they are safe for cooking and storing food.
Since stainless steel is easy to clean and maintain, they are an ideal one-time investment.
Much cheaper than other cookware materials like cast iron, stoneware, porcelain, and bone china.
Very lightweight and portable. Ideal for buffets or regular use.
Cons Of Stainless Steel Cookware
Everything in this world has a good or a bad side; similarly, stainless steel cookware has very few cons:
It can be easily reached by certain types of food, leading to the surface's loss of shine.
If accidentally, the food gets burned or stuck at the base while cooking, it is pretty hard to remove the stains.
Pros Of Aluminum Cookware
Aluminum cookware has been in fashion for decades, and there are many pros to using them.
Aluminum is known to be good conductor of heat, so it can be used for all cooking methods, including boiling, baking or frying, and sauteing.
Even if they are thick, they are much more lightweight as compared to stainless steel.
They are cheaper than many other materials used in manufacturing cookware.
Their surface is non-sticky and smooth, so it is easy to clean them.
Compared with other materials, aluminum is the most lightweight material used in cookware manufacturing, which is why they are ideal for outdoor cooking.
Can withstand high temperatures, aluminum is an excellent heat conductor.
They are also resistant to corrosion and abrasion.
Cons Of Aluminum Cookware
There are many cons of using aluminum cookware for a long time, here are some to consider:
Aluminum is a highly-reactive metal and sometimes can react with certain acidic foods and disrupt their quality. Therefore is aluminum bad for health and may sometimes give rise to specific health issues caused by metallic reactions with acids.
If aluminum is used for long-term cooking, it may give rise to many health issues, including indigestion, slow functioning of kidneys, weaker bone density, eczema, and many more.
Not as durable as other materials and can be tampered with easily.
Stainless Steel Vs. Aluminum Cookware – What Are The Differences?
The stark difference between aluminum and steel lies in their look, texture, and purpose. Most people need help deciding whether aluminum or stainless steel pans are durable; therefore, comparing them by their differences can help greatly with the choices.
Durability
When it comes to durability, stainless steel is more reliable than aluminum. The materials used in stainless steel cookware make them long-lasting, and there is no possibility of getting tampered with in any way. On the other hand, no matter how thick the layer is, aluminum can get easily tampered with or cracked in the worst cases. They are not as much durable as stainless steel.
Sustainability
Only stainless steel is one such material that can be recycled 100% and reused in the manufacturing process without affecting its quality. That is why stainless steel is the most sustainable material; however, this is not the case with aluminum, which cannot be reused and are not sustainable.
Resistance To Heat
Aluminum is known to be good conductor of heat, so aluminum cookware gets heated up quickly. But the problem lies in heat distribution; the temperature keeps fluctuating, and heat distribution is not even. Luckily, this is not the case for stainless steel cookware; they can distribute heat evenly and get heated up in no time, helping save fuel and energy.
Ease Of Cleaning
This is one point where stainless steel is behind aluminum cookware. While aluminum cookware has a non-sticky surface and it is easy to clean food stains, in stainless steel, these stains are hard to clean. 
Top Pick For Stainless Steel Cookware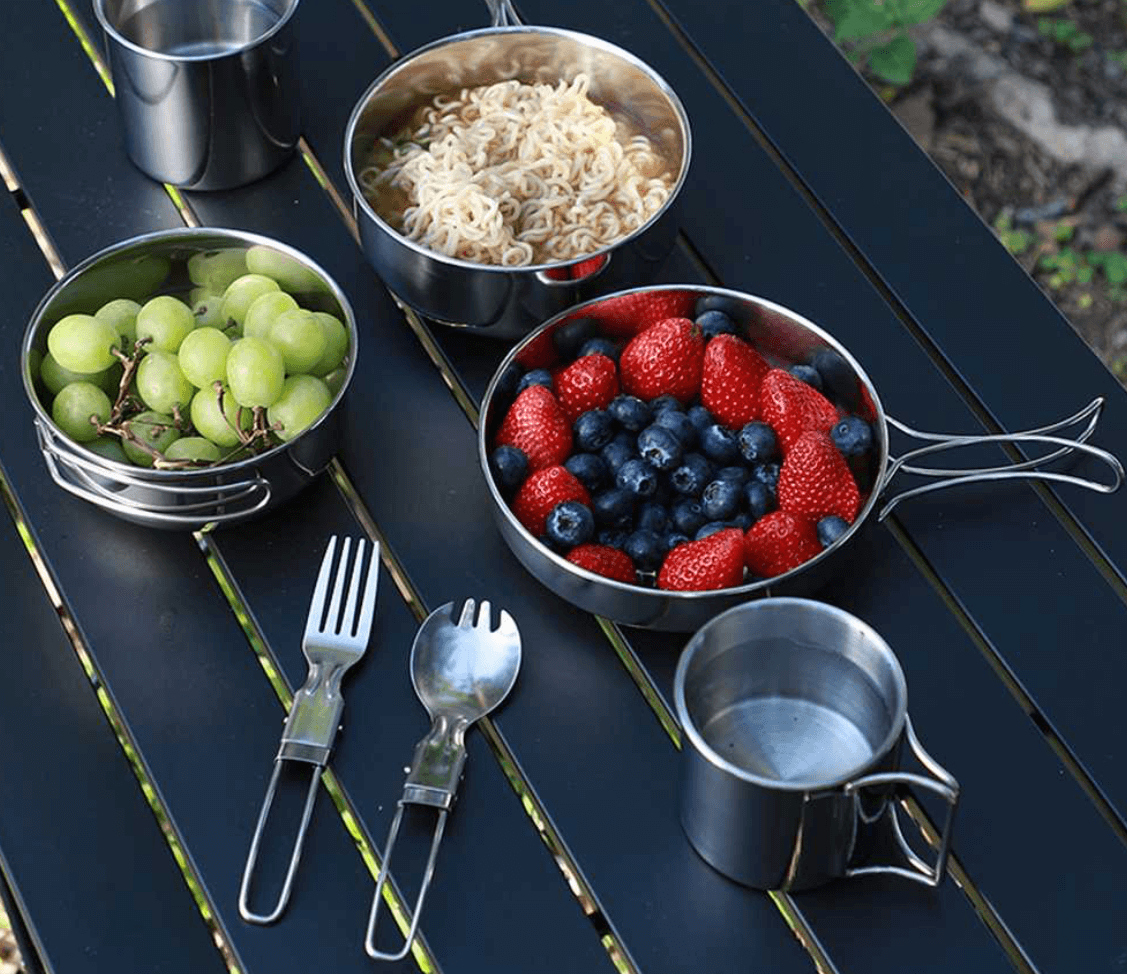 Picking up a top-rated stainless steel cookware manufacturer for your business is essential if you wish to prevail in the long run with goodwill. As a new business, you cannot risk relying on manufacturers who are not true to their words and do not ensure timely deliveries. Hence, your top pick must be a manufacturing company that has been in the business for years and have other businesses pave their paths to success through superior quality products and customizations as per needs.
Stainless Steel Cookware Range By Nicety
A leader in manufacturing stainless steel cookware range, Nicety is genuinely one of the most trusted steel tiffin box manufacturers who can help you with product customizations and delivery of superior quality products. Entering global markets by delivering top-notch products to numerous businesses worldwide, Nicety came into existence in 2005 and had been progressing and building bonds ever since.
Nicety has been praised by businesses worldwide for being their trustworthy partner manufacturer, which is a leader in delivering steel food containers in bulk of exceptional quality. This is because Nicety manufactures high-quality stainless steel cookware, and these products have gained LFGB, EU, REACH, FDA, CE, and BSCI certifications. Nicety values customer needs and cares about nature; therefore, they choose a sustainable material like high-quality stainless steel to manufacture their product ranges. 
Factors To Consider Before Sourcing Stainless Steel Cookware Or Aluminum
Thickness matters the most when choosing stainless steel cookware. If the purpose of buying such a set is cooking, the thicker the bottom of the pans, the more heat-resistant and durable they will be. Pans with a thin base tend to burn the food.
The ability to distribute heat plays a significant role in cookware. Stainless steel can get heated up quickly, thus ensuring a faster cooking process.
Materials that have been used also play a very significant role. Choosing the ones that promise superior quality and have been manufactured with genuine materials is always suggested.
For a business, aesthetics matters the most, and particular importance must be given to the aesthetics of the cookware sets. As a business, you must always ask yourself, will the customers find the collection aesthetically pleasing? Will they invest in them?
They must fail the magnetic test to prove the material is pure stainless steel. As stainless steel is an alloy, a mixture of metals and elements, it does not affect magnetic attraction. If they do, it means the stainless steel is not original, and its iron content is unexpectedly higher, which is not a good sign.
Stainless Steel Cookware Vs. Aluminum: Which One Is Better For Your Business?
As compared to the quality and sustainability, undoubtedly, for a cookware business, stainless steel is the best option. Not only is it available in abundance and affordable, but stainless steel cookware can also be customized accordingly and have zero health hazards. However, aluminum is a better choice if your business wants to focus more on cookware to be used outdoors, such as on camping sites and hikes.
As far as the quality of both these materials is concerned, stainless steel undoubtedly offers superior quality, better heat resistance, and durability. They are also more aesthetically pleasing; their alluring shine and non-sticky surface are incomparable. Therefore, in the battle of aluminum vs stainless steel cookware, stainless steel shall be the winning choice if your business primarily focuses on sustainability and premium quality and enter a larger competitive market. You can reach out to a stainless steel pot manufacturer to customize the products of your business accordingly. 
FAQs
Is Aluminum Cookware Safe?
A common question frequently asked by clients is their concern regarding is aluminum cookware safe. Is it safe to eat or cook on a utensil made of aluminum? According to various research and surveys, the long-term use of aluminum has not been considered safe. As aluminum is reactive to certain acids and acidic foods, it increases the risk of health-related issues.
On the other hand, some research says that using aluminum utensils for an extended period has increased the risk of developing diseases like Alzheimer's. This is because aluminum tends to react with certain acids in fruits, vegetables, and other food items. Although there is no solid proof to certify this fact, the assumptions cannot be denied. Hence; for short-term use, aluminum cookware is safe, whereas for long-term use, it is probably not the safest option.
What Is The Healthiest Metal To Cook With?
According to various research, stainless steel is the safest metal to cook mainly because it is non-reactive and heats up quickly. Steel cookwares are 100% toxin-free; they are not polished or layered with any harmful chemicals, so they are the safest metal for cooking.
Besides its non-reactive quality, stainless steel is also much preferred because its surface is smooth and non-sticky. It does not soak in oil stains or react with them; hence, if the concern is stainless steel vs aluminum cookware, undoubtedly, stainless steel is the most hygienic option. 
Final Words
Hence, if your business wishes to avoid questions like is aluminum safe to cook on? It is better to switch to a material that has been scientifically proven safest for cooking and food storage or consumption. Also, conjuring the global market sizes and the demand for stainless steel cookware, which is always very high, it is undoubtedly wise to stick to such in-demand, highly-competitive material. If you wish to buy steel cookware range in bulk for your business at the most affordable prices, you can contact us here and get your products customized.